Best Axolotl Tanks On Amazon 2022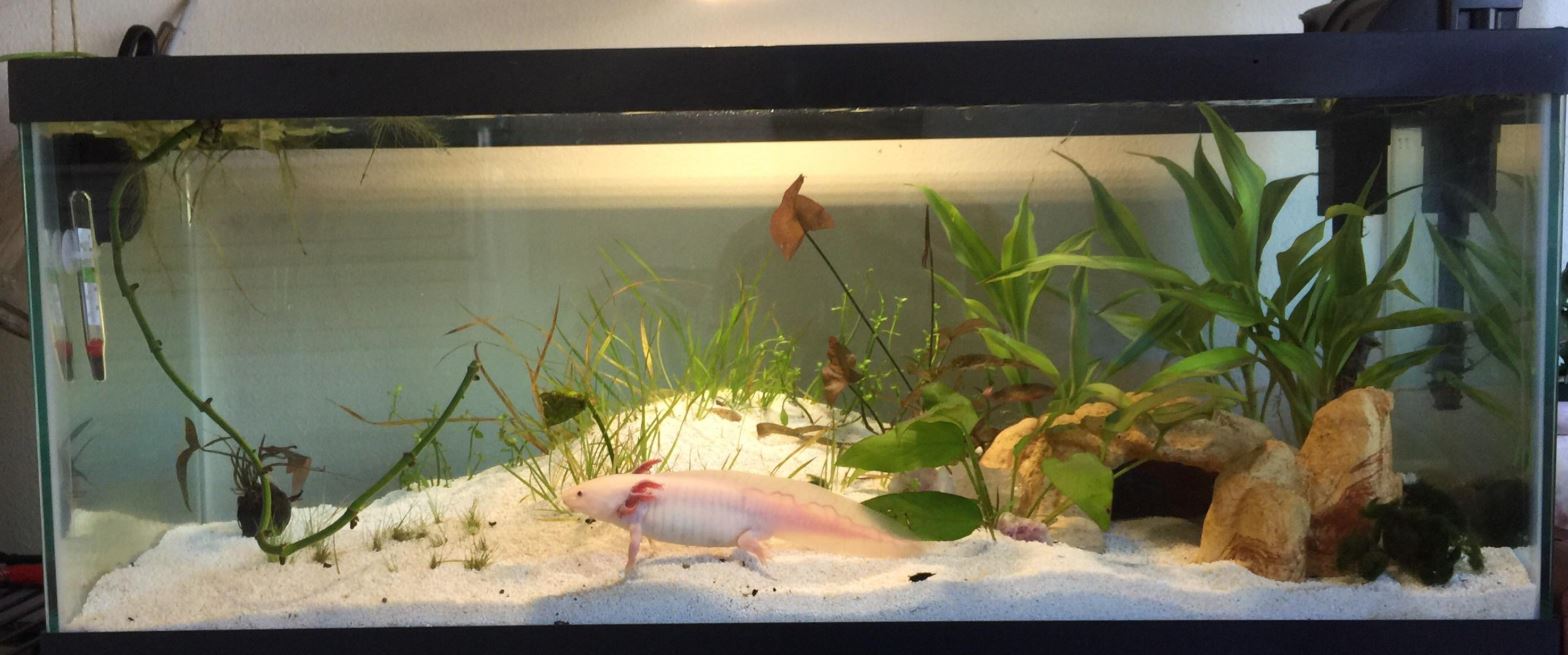 Axolotls are a curious species. The best way to describe them is as a type of salamander that never leaves the water. Without a doubt, this is one of the most unique pets that you can keep in a tank.
While Axolotl tanks are primarily identical to those that you use for fish, there are specific characteristics and requirements that should not be neglected.
Although we will not go through the specifics today, we have prepared an in-depth list of the best aquarium tanks for Axolotls in order to save your time searching and make the choice easier.
For your convenience, each tank on our list is available on Amazon at the best current market price. Each aquarium has been carefully selected to fit every need of an Axolotl and will be an equally great choice for your pets.
1. Tetra 20 Gallon Complete Aquarium Kit w/ filter heater LED & plants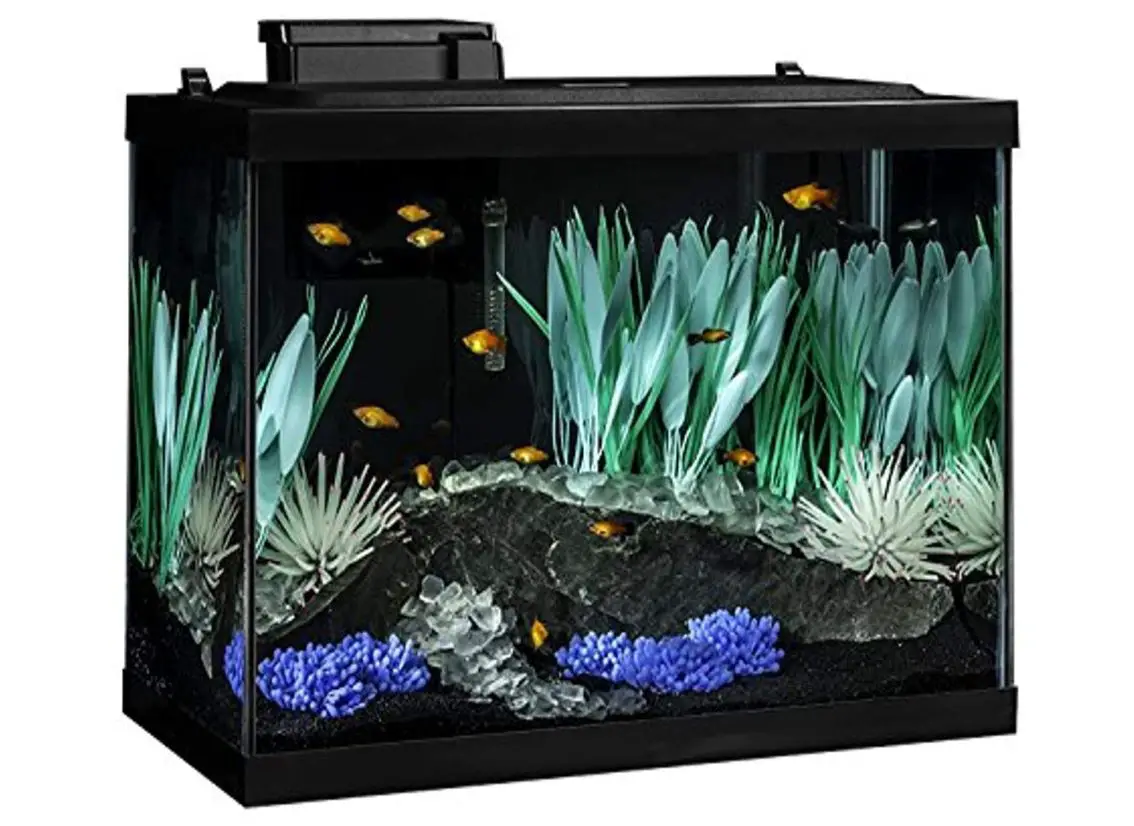 Our first selection is a 20-gallon tank by Tetra which is, of course, one of the largest brands for aquarium-related products. This particular aquarium is amazing for people who are starting out as it comes with almost everything you need.
Besides the high-quality aquarium, you also get a filter (with an additional filter bag that needs to be changed once a month) and a heater in order to make the water perfect for the Axolotls.
You also get a thermometer that should be placed on the outside of the aquarium and two packs of decorative plants. Of course, most people would rather have live plants but this kit will give you a good head start.
Besides that, the kit also includes a small package of fish food, a water conditioner which is necessary in order to make the water as safe as possible, and a net.
Last but not least, you also get the incredible Color Fusion LED lighting that gives you the opportunity to change the color of your aquarium whenever you want. Once you purchase this tank, you will only need to buy gravel and the usual consumables.
High-Quality aquarium & starter kit
Filter, heater, and LED lighting included
Suitable for starters
Check Out The Reviews And Price Here:

2. GloFish Aquarium Kit Fish Tank with LED Lighting and Filtration Included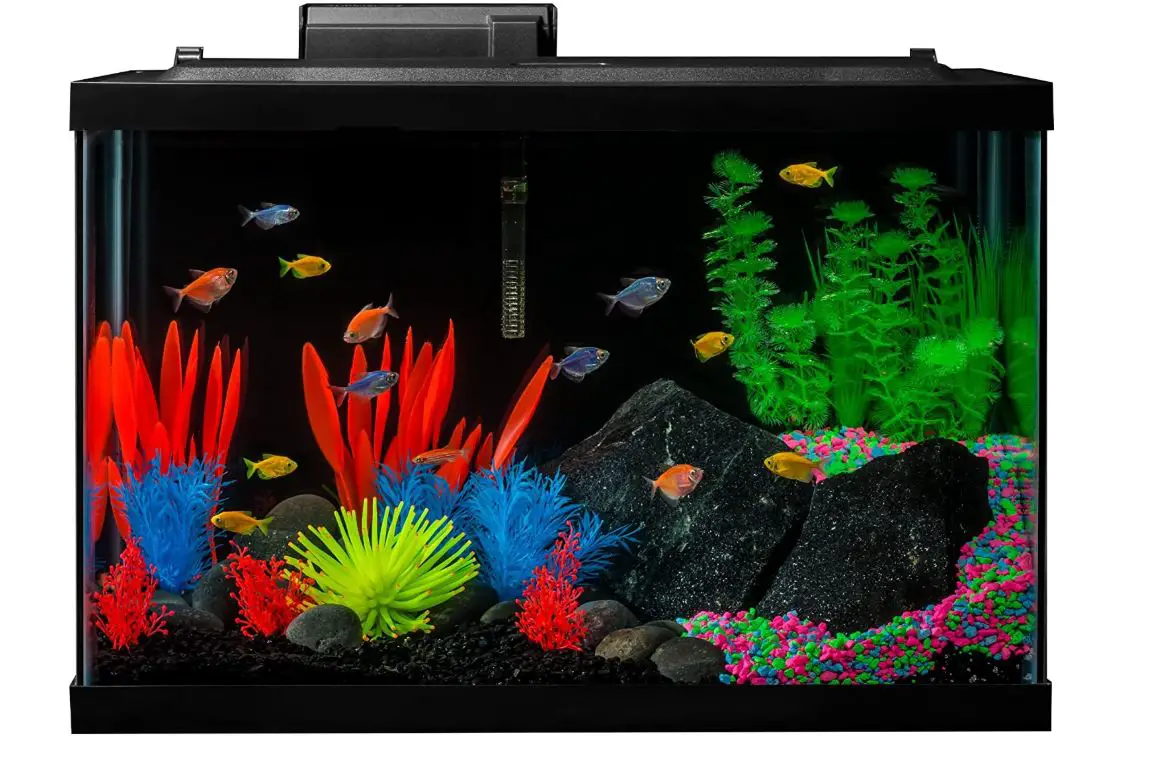 This aquarium is overall great for all fish species as it is available in a variety of sizes. For Axolotls, you need to choose the largest 20-gallon size. Once again, this aquarium comes with everything you need including a heater and a filter that was manufactured by Tetra.
Besides that, you get a blue LED lighting stick that will give your aquarium a beautiful colorful glow.
The kit also includes three packs of decorative plants specifically created to glow in different colors under the blue LED lighting and definitely look good. Nevertheless, they cannot replace the benefits and genuine beauty of live plants.
Available in a variety of sizes (for Axolotls choose the 20-gallon one)
Comes with a Tetra heater and filter
Includes a starter kit with food, water conditioner, and a net
Comes with blue LED lighting
Check Out The Reviews And Price Here:

3. Hagen HG Fluval Flex Aquarium 57L, 15gal, Black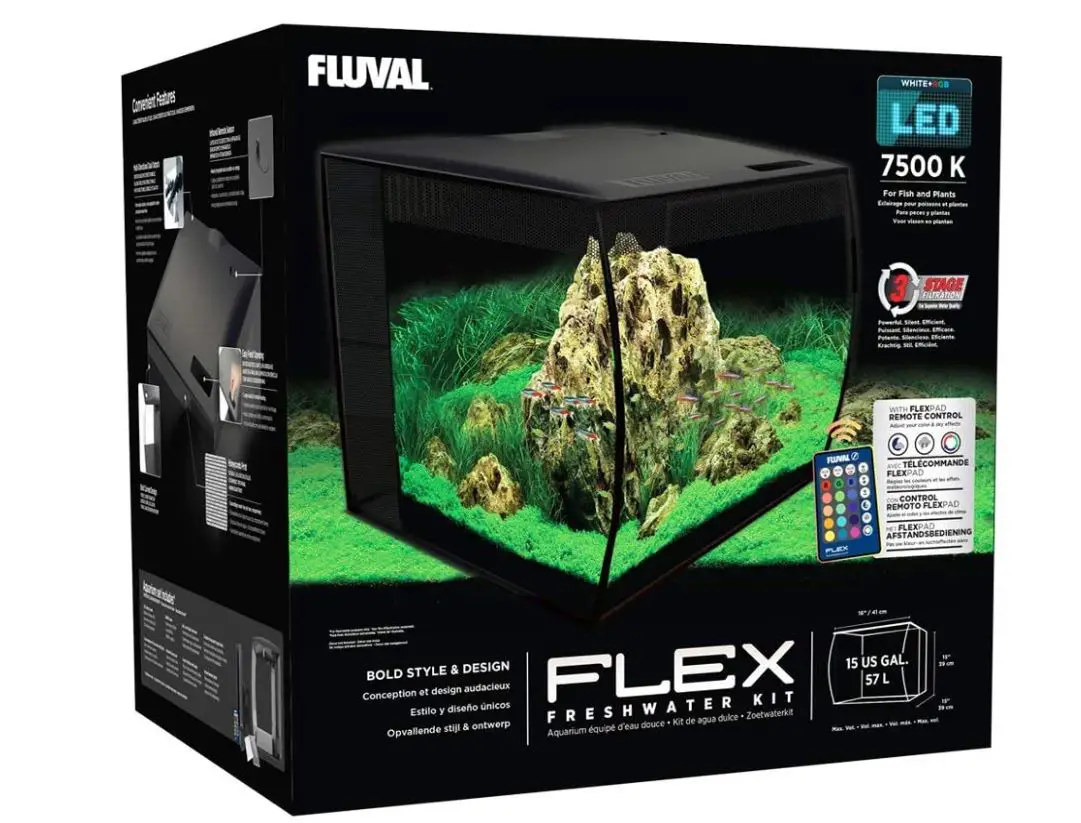 This aquarium by Hagen is slightly smaller than your usual Axolotl tank but is an absolute piece of beauty. It does not only look good but is a product of the highest quality.
Unlike the previous selections on our list, this aquarium kit does not include any additional items such as food and water conditioner but compensates with quality. It is equipped with 2400 Lux LEDs into one powerful LED lamp that will make your aquarium stand out.
The integrated filter will provide your aquarium with a multistage filtration that includes the three main types of media – chemical, mechanical, and biological. In addition, you can also control the lighting and water flow in the aquarium to match both your desires or fish requirements.
High-end aquarium
Modern & Stylish Design
Powerful LED lighting
3-stage filtration system
Customizable water flow & lighting
Check Out The Reviews And Price Here:

4. SeaClear Acrylic Aquarium Combo Set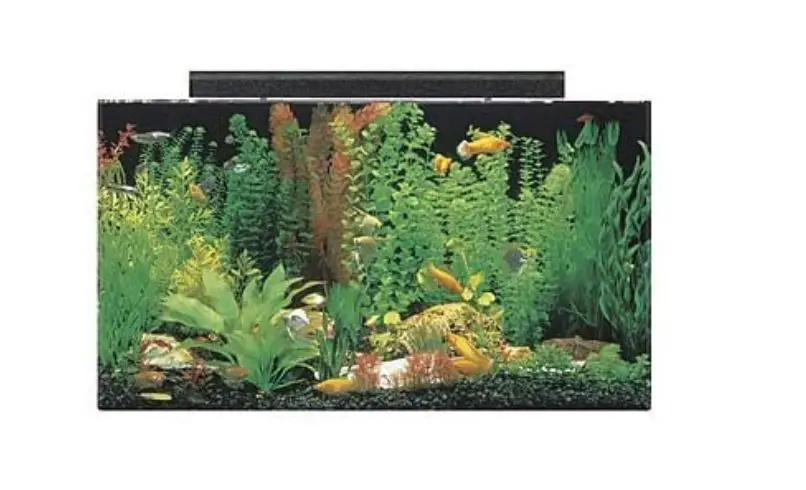 This aquarium tank will possibly look too basic after you saw the unique design by Hagen in the previous selection. However, this tank by SeaClear has a few hidden characteristics that you would hardly realize especially if you are just starting out with this hobby.
Unlike the previous choices, this aquarium is made out of acrylic and not glass. The difference between the two materials is that acrylic is clearer than glass, it is lighter, and is far more impact-resistant. This means that it will not crack or break after the smallest casual hit.
The aquarium kit also includes a reflector and an electrical light fixture. Before we go on, you need to know that SeaClear gives you more than one option in terms of size and shape including hexagon and bowfront aquariums.
Made out of acrylic
Clearer, lighter, and stronger than any glass aquarium
Variety of sizes and shapes
Check Out The Reviews And Price Here:

5. Fluval 10531A1 SEA EVO XII Aquarium Kit, 13.5 gal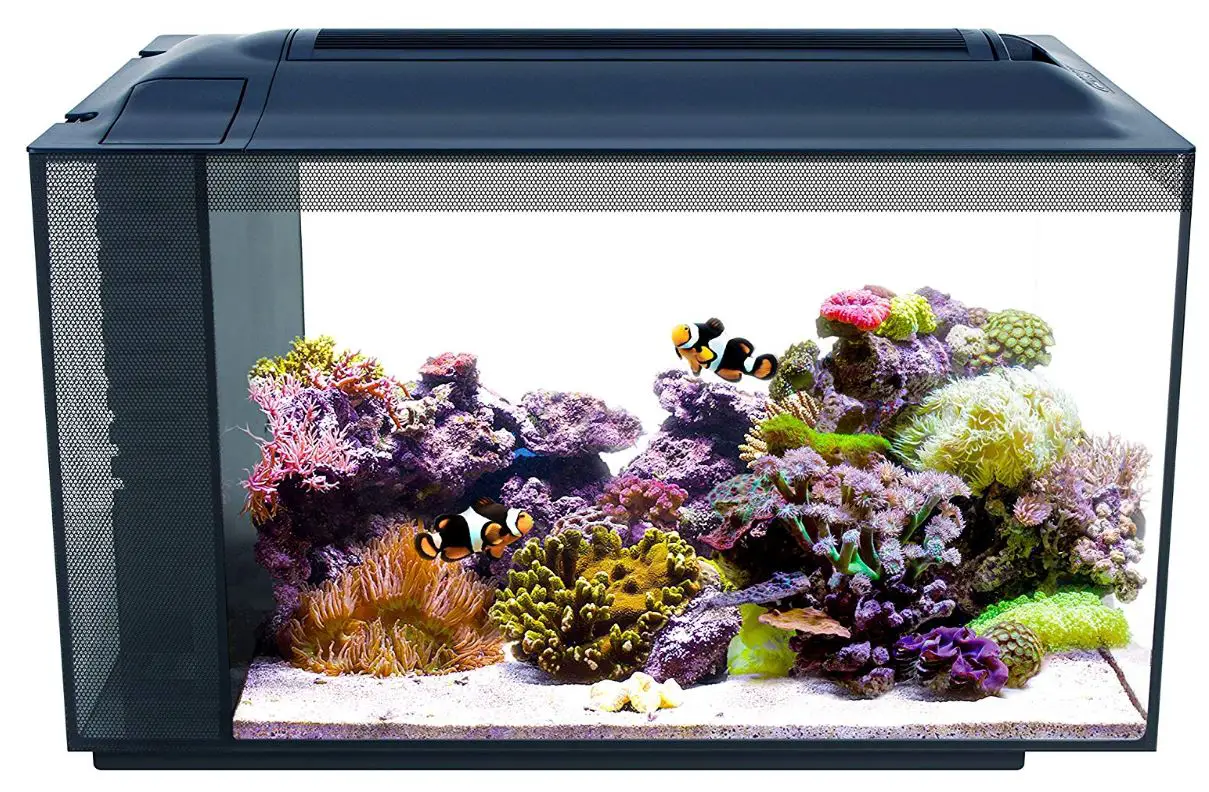 Although we already discussed one aquarium by Fluval, we cannot close our eyes to one more of their incredible high-quality tanks. Unlike the previous one, this one has a regular rectangular shape.
Like all Fluval aquariums, this one also comes with a 3-stage filtration system and a powerful LED lighting system. The placement of the filter is in a separate compartment that has also been darkened. This way, it will not interfere with the beautiful picture inside your aquarium.
Whatever we say about the quality of this aquarium will not justify its real potential. Fluval has, once again, succeeded in the creation of a high-end, user-friendly aquarium and it truly meets all the potential customer requirements for a tank.
High-end aquarium
Modern & Stylish
3-stage filtration system
Powerful LED lighting
Check Out The Reviews And Price Here:

6. Hygger Horizon 8 Gallon LED Glass Aquarium Kit for Starters with 7W Power Filter Pump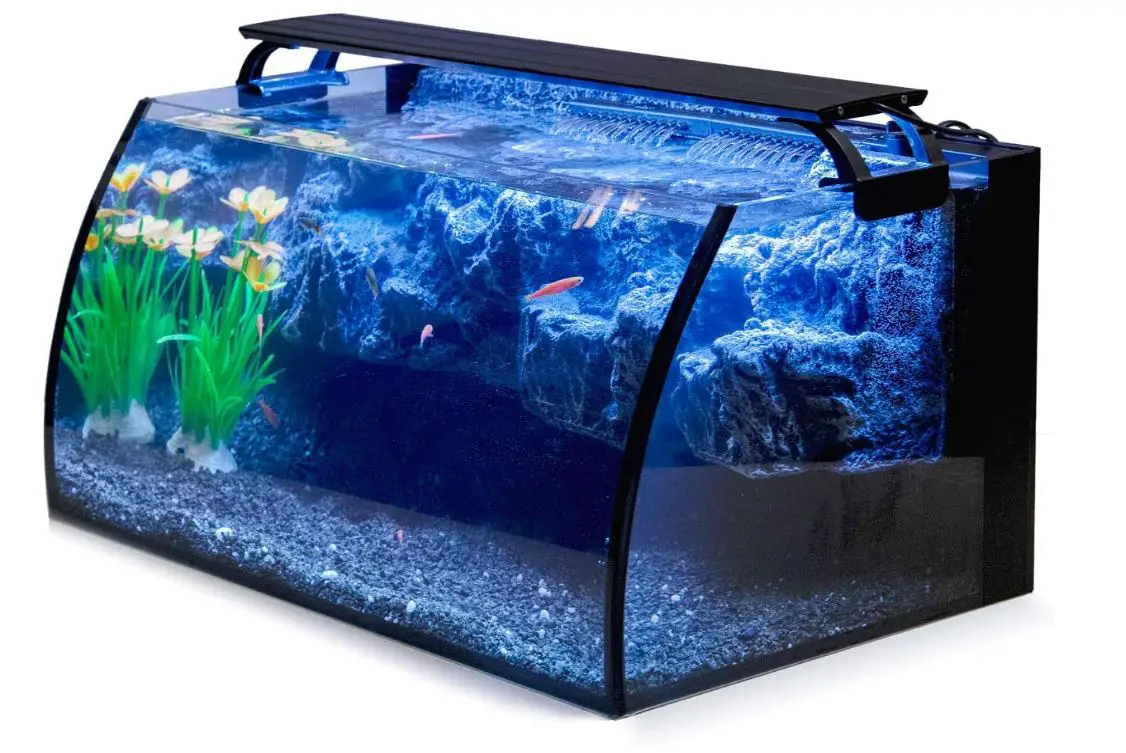 Before we get to the characteristics, we have to mention that this 8-gallon tank will only be suitable for one axolotl at a time as tight spaces can interfere with their growth and you do not want this if you have more than one.
As for the aquarium, it is absolutely different than anything we already presented to you as it is open from the top. It has an interesting curved front and an overly modern design. The kit includes a great internal filter that is both quiet and durable, as well as LED lighting with extendable brackets.
The most interesting feature of this tank is the 3D background décor which, unfortunately, cannot be detached. This eats up a bit of the aquarium space but is incredibly well-made and looks beautiful with additional live plants as decorations.
Unique sturdy design
Internal filter
Beautiful 3D background décor
Quiet & durable internal filter
Check Out The Reviews And Price Here:

7. All Glass Aquarium Tank and Eco Hood Combo, 10-Gallon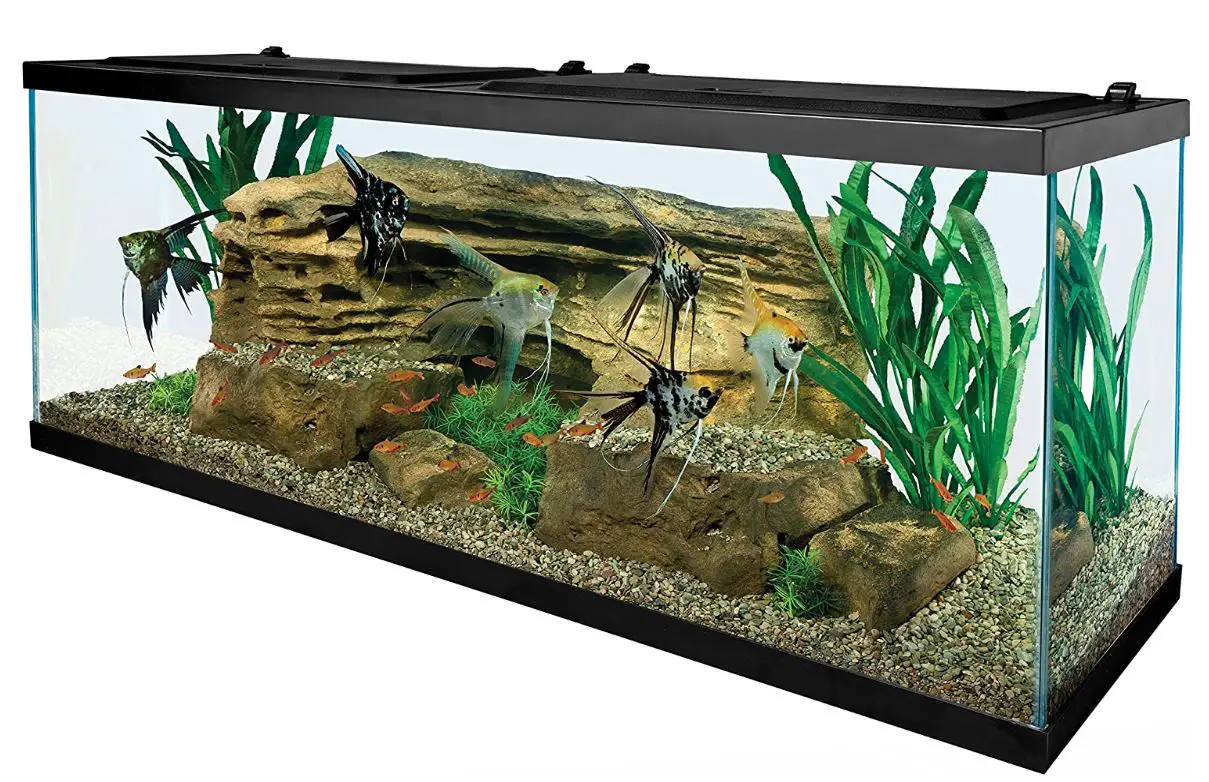 This particular tank does not particularly impress with any appearance or significant features but is actually a great tank for starters. It is suitable for small fish species or a single axolotl.
The only thing included in the kit is the LED lighting which gives you the opportunity to single-handedly pick every accessory by yourself. We can safely say that the tank is well-built and durable, and is very well priced for its size.
Understandably, this tank cannot be compared to the majority of previously discussed aquariums because of its simple design and build but it does give you much more creative freedom. In terms of size, however, it can only fit one axolotl if you want it to grow healthy and happy.
Affordable
Well-built & durable
LED lighting
Check Out The Reviews And Price Here:

8. Aqueon 15 Gallon LED Aquarium Kit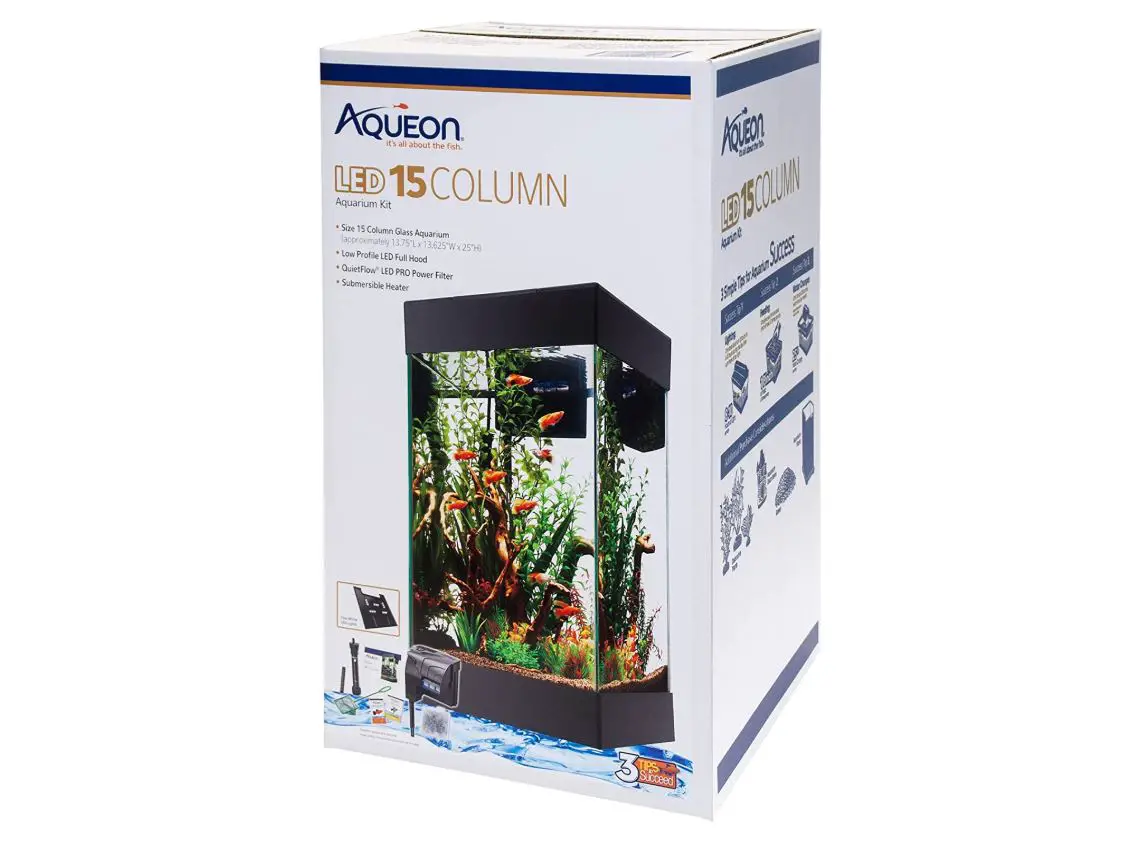 This aquarium comes with a full kit of accessories to make your life easier. Of course, this reduces your creative freedom to some extent but you can still probably change the filter and heater that have already been included. However, you need to know that the filter also has an LED indicator that will notify you when you need to change the cartridge.
Besides those two, the aquarium also comes with white LED lighting, a small package of fish food as well as a water conditioner. Last but not least, you get a thermometer that you can stick somewhere on the exterior of the aquarium and a small fishnet.
Unlike the models we discussed above, Aqueon also gives you a 90-day warranty period.
Includes a complete starter kit
Includes filter, heater, and LED lighting
90-day limited warranty period
Check Out The Reviews And Price Here:

9. Marina LED Aquarium Kit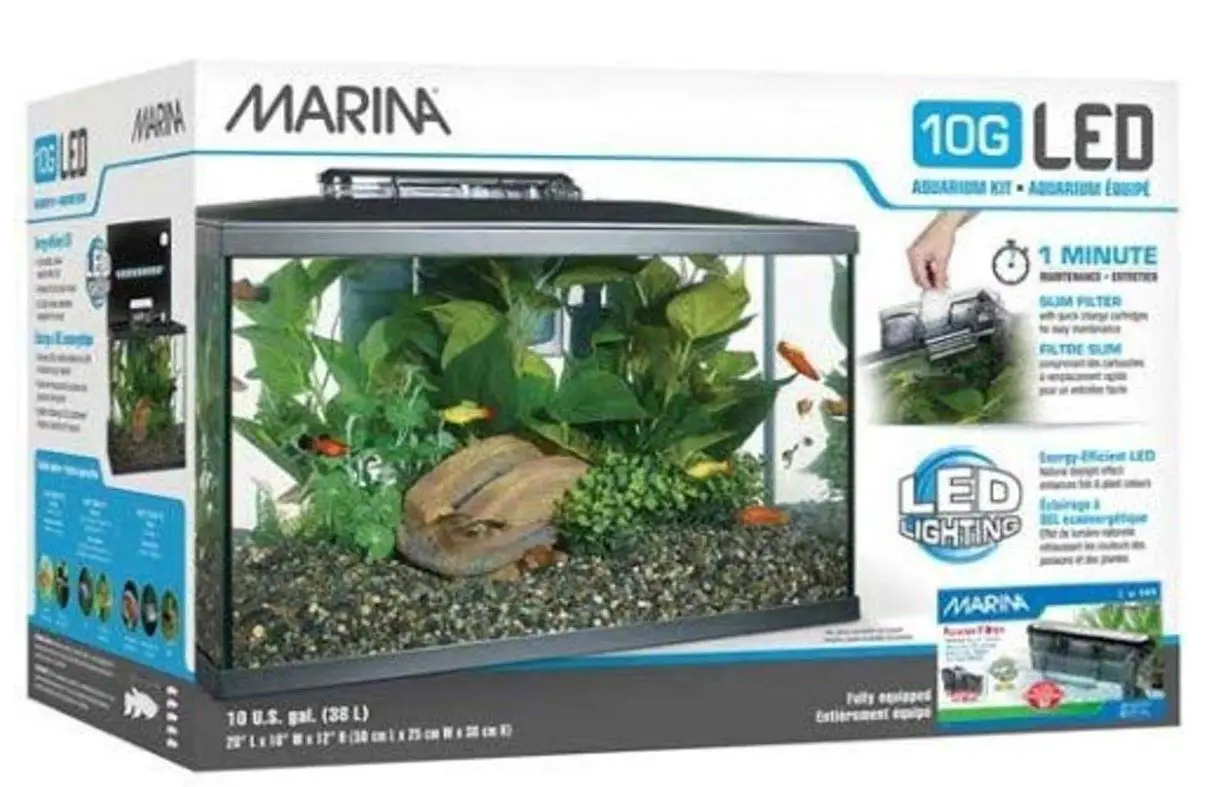 Our final selection is undoubtedly the most popular aquarium kit on the market. People have been choosing this product for literally every type of fish species and it is also suitable for Axolotls as well. The aquarium is available in three sizes but if you want more than one Axolotl, you should consider the largest 20-gallon version.
To begin with, this aquarium kit is extremely affordable when you compare it with other high-end aquariums on the market. It comes with a filter and additional cartridges as well as LED lighting. You also get a water conditioner as well as a biological supplement to make the environment as clean and healthy as possible.
Last but not least, you get a package of fish food and a small fishnet. Overall, you can see that this kit includes everything you need to start an aquarium immediately besides gravel and decorations. It is perfect for people that want an all-in-one product that will save them money and time.
Check Out The Reviews And Price Here:

Final Thoughts
Although each aquarium in the list is usually used for fish, they are absolutely suitable for Axolotls as well.
You will not find a tank that is specifically made for Axolotls as they do not have any atypical requirements and they are also not particularly popular as pets yet.
We have included aquariums of different sizes. The most suitable living space for an Axolotl is above 15 gallons but you can also keep one in a smaller tank as we have mentioned on a couple of occasions. Our purpose was to list out the best aquariums for this species that are currently available for purchase but the final decision remains yours.
Hopefully, we have successfully assisted you in choosing an aquarium or at least decreased the number of potential options. Just keep in mind that Axolotls are different than the usual aquarium species and there is a lot more to know after you find the right aquarium.