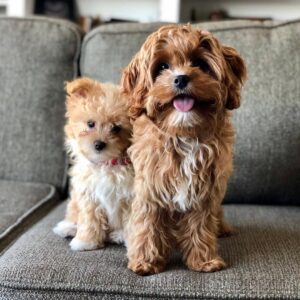 Cavapoos are one of the most popular breeds worldwide due to their adorable appearance and sweet temperament. You might also recognize them by different names, says ​Dogtime.com​. They are known as Cavapoos, Cavadoodles or Cavoodles. This designer hybrid is the result of crossbreeding Cavalier King Charles Spaniels and Poodles. But are they a good fit for your home?
Let's take a look, to help you decide.
CAVAPOO OVERVIEW
1. SIZE 
Cavapoos are a tiny breed. When they are fully grown at around 8 months, they usually weigh about 12-25 pounds (5-11 kg) and stand at only 9-14 inches (22-35 cm) tall.
2. COAT 
​Cavapoos have a puppy coat that is completely different from the coat they have when they are fully grown. Cavapoo puppies have an extremely soft and fluffy coat. Fully grown Cavapoos have soft smooth coats that do not shed much. It can inherit the curly coat from Poodles, or the straight, wavy coat from the Cavalier King Charles Spaniel. Either way, they are bred to be hypoallergenic.
3. GROOMING 
Cavapoo coats do require quite a bit of maintenance. Depending on the thickness of the coat they have to be brushed and combed every 2 to 3 days. ​Here ​are a couple of grooming tips from Rover.com
4. PERSONALITY 
​Perfectdogbreeds.com ​describes them as a pooch with a big dog's personality trapped in a little dog. They are extremely affectionate and will want to spend most of their time on your lap. They are also remarkably brave, considering their size.
5. TEMPERAMENT 
​They are actually quite docile, although they can be playful at times. They won't try to escape, nor will they tear apart your living room or go on hunting expeditions. They are usually nowhere near as energetic as Poodles, but still a bit more outgoing than Cavalier King Charles Spaniels.
6. BARKING 
​Like many other small breeds, Cavapoos can't seem to contain their excitement in their tiny little bodies. Andrea Voigtmann shows her puppy's reaction to his own reflection in this ​video​.So they bark to show happiness, anger, excitement and pretty much any other emotion that they are capable of feeling. As with any dog though, this can be remedied with proper training.
7. AS A FAMILY DOG 
​Because they are so loving and cute, they make great family dogs. As long as you give them enough attention they also aren't very high maintenance, as they are perfectly happy to simply be around people, being showered with love.
8. AS A GUARD DOG  ​
Though Cavapoos might work effectively as an alarm system, they simply aren't big enough to physically protect you from any danger, and they're just way too cute to be intimidating. They are very courageous, so you will need to make sure they don't get hurt trying to protect you.
9. INTELLIGENCE 
​As with all relations to Poodles, Cavapoos are highly intelligent. This usually means that they are quite trainable as well, and while that is true, Cavapoos usually don't take any interest in being taught to do different jobs, as they'd much rather just spend time with their family.
10. EXERCISE  ​
Cavapoos do not require extensive exercise. Simply playing tug of war for a couple of minutes, or running around the room to fetch, or having a puppy play date should be more than enough for them. This adds to their popularity among flat dwellers.
11. LIVING CONDITIONS 
​While they have been known to take a little longer getting house trained, they are generally very easily accommodated. If you have a lap, they will be happy. Because they're so tiny they don't need a large yard to run around in and would be as happy in an apartment as on a farm.
12. HEALTH ISSUES  ​
As with all good hybrids, Cavapoos are generally quite healthy. According to Perfectdogbreeds.com​, some have been known to have congenital heart attacks, progressive retinal atrophy and slipping kneecaps
13. LIFE EXPECTANCY ​
Cavapoos tend to live to the ripe old age of 10 to 15 years. ​Oodlelife.com reports the oldest Cavapoo living to be 20 years old.
14. COST  ​
Depending on the breeder, Cavapoos average at around $1500 per pup.
THE HISTORY OF CAVAPOOS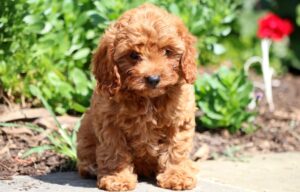 The Cavapoo is one of the earliest designer dog breeds, originating in the early 1950s in Australia. First bred to be hypoallergenic pets with better health, their loveable personality and adorable features quickly shot them to fame. Nowadays there are Cavapoos with more than 50000 followers on Instagram, just check out ​this ​article by Hellobark.com. Being a cross between a Poodle, which is is an elegant, proud and intelligent dog and a smaller, shorter-nosed descendant of the Spaniel, the Cavalier King Charles Spaniel, which has been loved by the royals for hundreds of years, it is no surprise that Cavapoos have an air of superiority about them.
PROS OF OWNING A CAVAPOO
What are the benefits of having one of the most popular dog breeds in the world move in with you?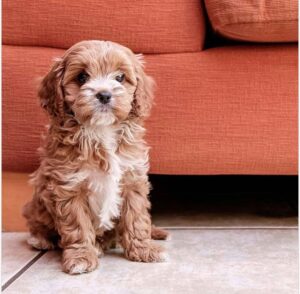 1. LOOKS AMAZING
Well, firstly the obvious, they are whimsically adorable. Their small faces and long floppy ears are perched on their tiny, but proportionally strong bodies, hidden beneath their fluff. They seem to be a bit snobbish and will make you feel extremely special if they choose to show you affection, which they will.
2. GREAT FAMILY PETS
They are as loving as they are lovable, which makes them great family pets. They will make you laugh, give you hugs, and calm you down if you start feeling anxious. Along with that, they are also really low maintenance, apart from a bit of grooming. They don't require much other than your attention and love.
As long as they are getting attention, they are pretty much happy permanently, which is so cute, it'll make the rest of your house happy as well.
3. GOOD FOR PEOPLE LIVING IN AN APARTMENT
Because they are so small, and they don't need that much exercise, they are a very good option for people living in an apartment. If you do need to leave for a while, they are also quite content waiting for you to return as long as they are in a safe place, and have something to play with while you're gone.
4. EMOTIONAL SUPPORT COMPANIONS
Keystonepuppies.com​ says the best dog breed for anxiety that will stay "puppy cute" forever is the Cavapoo. So they could be used as emotional support companions as well.
5. INTELEGENT AND EASY TO TRAIN
As with all Poodle crosses, they are highly intelligent, which means they are trainable, and they will have you in stitches with their antics.
6. HYPOALLERGENIC AND HEALTHY BREED
As a hybrid, Cavapoos are bred to be low shedding, hypoallergenic and healthy.
If you're looking for a cute, fun, intelligent companion, they are perfect for you.
CONS OF OWNING A CAVAPOO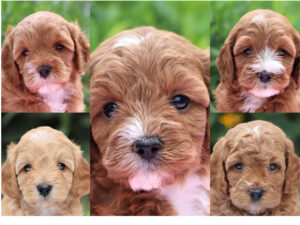 While dogs themselves do not have any "cons" there are a couple of factors to consider when deciding if you want to add a Cavapoo to your family.
1. NEED TO BE CAREFUL WHEN CHOOSING A PUPPY
Not only does their fame mean that they are very expensive, but it also encourages puppy mills to breed as many of them as possible in order to make some money. This leads to unhealthy, unethical breeding.
2. NEED A LOT OF GROOMING
Their majestic, fluffy coats need a lot of grooming. Get ready to brush and comb them almost every day, and if their hair does get matted, it could be a real headache to fix.
3. NEED A LOT OF ATTENTION AND AFFECTION
They are also extremely attached, as is to be expected with a lap dog. If they are left alone they might easily get separation anxiety which will lead to them misbehaving. Because they are so small and almost fragile, they are really not suited to be left alone for too long.
Also, because they are disproportionately brave, they could easily land themselves in situations in which they might get seriously hurt if left unsupervised.
4. TRAINING AT AN EARLY AGE IS NECESSARY
While teething, and if left untrained, they might bite a lot, they can't do any real damage, but it is rude and irritating, like with all behavioral trouble, this could be remedied with proper training.
They tend to be quite vocal about all of their emotions, which is usually just very cute but could become annoying if it becomes excessive.
TIPS FOR CAVAPOO OWNERS
Cavapoos should be socialized early to avoid anxiety around strangers.
It is best to begin training Cavapoos early, and by using positive reinforcement. That means using rewards as an incentive to good behavior, rather than punishing bad behavior.
A quick walk around the block and a potty break will be enough exercise for them.
Although they prefer being with you at all times, if you do need to leave for a while, they are quite easy to crate train, as they are happy to lie in a safe environment, playing with a toy, while they wait for you to return.
When looking to purchase a Cavapoo, make sure it is from a reputable breeder, as to not support puppy mills, and risk getting an unhealthy dog.
CONCLUSION
Cavapoos are popular for good reason. They are a very special breed. Their huggable, babyish traits make owners form an extremely intimate bond with them. They are relatively low maintenance and extremely adaptable to any living conditions, provided that you can show them enough attention. If you can afford to pay for a proper Cavapoo and are willing to commit to having to devote the majority of your attention to it, there is no reason not to get a Cavapoo. Have a look at Crumpet and Victoria from Borrowmydoggy ​here​, and see how special the bond between Cavapoo and owner can be.