CBD Oil for Bullmastiffs – Is it Actually Effective?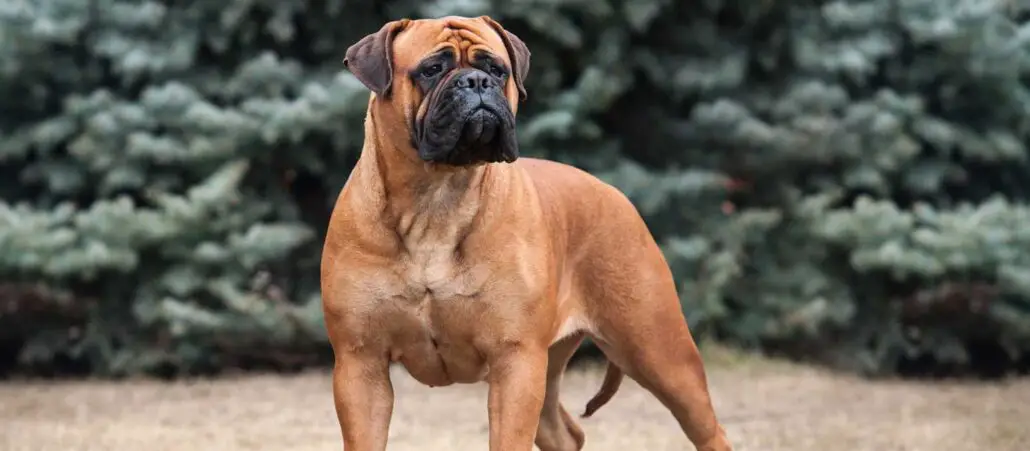 Bullmastiffs are a loving and gentle, but protective dog to have as a pet, loyal, and full of energy. If you are looking for a real companion who loves your company, then a bullmastiff is for you.
Bullmastiffs are a cross between an old English bulldog and the English mastiff, and they were originally bred to be used as guard dogs.
Although to their families they are soft and loving, the bullmastiff can be hostile to people or animals that they don't know – especially if they aren't introduced to them by an owner or feel like their owner is being threatened and they can struggle is they are separated from their trusted owners.
Bullmastiffs are purebred dogs, and there several health problems that they are particularly susceptible to. They include:
Hip and elbow dysplasia, often resulting in arthritis
Some cancers
Separation anxiety
Thyroid Disfunction
1. CBD AN YOUR BULLMASTIFF
Cannabidiol – or CBD – one of the many natural compounds that make up the cannabis plant. Unlike THC – or tetrahydrocannabinol – it won't make you high, but it can affect certain parts of the body due to its interaction with the Endocannabinoid system.
Scientists have found that many animals also have an endocannabinoid system – including dogs, meaning that they can also benefit from the therapeutic effects of CBD just like humans can.
CBD is a cannabinoid which, when it is taken, interacts with the endocannabinoid system in a similar way to the cannabinoids that are naturally produced by the body – known as "endocannabinoids". This interaction helps the endocannabinoid system to keep the body regulated and working properly.
Taking CBD can help to boost your dog's endocannabinoid system, regulating certain functions of the body and helping with issues such as anxiety and joint pain.
2. THE BENEFITS OF CBD FOR YOUR BULLMASTIFF
There are many benefits that CBD can have for your dog – and more specifically, your bullmastiff. These can include:
1. BOOST THE IMMUNE SYSTEM AND REDUCES THE RISK OF PICKING UP ILLNESSES
The immune system has an important role in a dog's well-being, in that it helps to protect the body from infections.  It can, however, also cause problems when it is over-active, sometimes turning on itself and causing other health problems such as thyroid dysfunction – which can be suffered typically by bullmastiffs.
Scientists have found that CBD is what's known as an "immune modulator" – or can help to balance the immune system if it is working too little or too much.
This means that by giving your bullmastiff CBD, you can help to keep them protected from possible infections as well as help to guard them against autoimmune problems.
2. IMPROVES MOOD AND LOWERS STRESS
Many things can affect your dog's mood and stress levels, but CBD has properties that can help to fight depression as well as help your dog to relax.
Scientists believe that CBD can help to regulate levels of dopamine in the brain – the chemical that relates to happiness, as well as inhibiting the degradation of anandamide – the neurotransmitter that is also known as the "bliss molecule" and also contributes to the feeling of joy and happiness.
This means that you may be able to help your dog's mood and stress levels by giving them CBD.
3. REDUCES ANXIETY, SEPARATION ANXIETY, AND CALMS YOUR MASTIFF IN MOST SITUATIONS
Anxiety can be a problem for many dogs, but due to their nature, the bullmastiff in particular can suffer from separation anxiety. Whether you are going on holiday, to work, or leaving them at the vets, being separated from their owners can be distressing for some pets.
CBD is known for having 'anxiolytic' properties – meaning that it can reduce anxiety both in humans and dogs. The rise in levels of anandamide is thought to be essential in helping to reduce anxiety and stress in your bullmastiff.
By being able to help your pet to control their anxiety – separation anxiety in particular – you can help to make these moments of separation easier to deal with for everybody.
4. HELPS WITH ARTHRITS AND JOINT PAIN AS THEY GET OLDER
Bullmastiffs are dogs that have a lot of energy and like to be running around and moving. This can lead to problems – especially later in life – with their joints (just as is the case with humans). This often occurs due to inflammation in the tissue around the joints, meaning that if the inflammation can be reduced, the pain caused by arthritis can also be reduced.
Cannabidiol is known for having anti-inflammatory properties through the fact that the CB2 receptor that the CBD interacts with, has a major effect on the immune system, helping to manage inflammation.
For people and animals with arthritis and joint pain, CBD can be useful in its management.
5. HELPS WITH HIP DYSPLASIA PREVALENT IN MASTIFFS
Hip dysplasia is a problem that bullmastiffs are especially susceptible to. It is a genetic condition where the ball and socket hip joint does not connect properly and partially dislocates, causing the bones to grind together and putting unnatural strain on the muscles.
Hip dysplasia can lead to severe pain, arthritis, mobility issues, and lameness.  Through its anti-inflammatory properties as well as the ability to help to manage pain, CBD can be useful for pain relief for your bullmastiff if it is suffering from hip dysplasia.
Although CBD can't cure your dog of the problem – only surgery can do that – it is a natural way that you can try to help them to manage the pain.
6. HELPS TO FIGHT AND REDUCE THE RISK OF GETTING CANCER
Unfortunately, cancer is an increasingly common disease for all kinds of dogs. Although we certainly cannot say that CBD can cure cancer, it can be useful in helping to keep your dog healthy and boost its health and well-being through its interaction with the endocannabinoid system.
There are some preliminary studies that support the idea that CBD can help to combat the growth of cancer cells in animals, but it is far too soon to be able to categorically say that it can cure – or indeed lessen – the risk of cancer.
There is more scientific evidence, however, to say that CBD can be useful in helping to cope with the effects of cancer treatment. Some of the effects of cancer treatment can be nausea, pain, and loss of appetite and many dog-owners report that CBD can be effective in helping to deal with these.
7. REDUCES SEIZURES AND HELPS WITH EPILEPSY PREVALENT IN DOGS
Epilepsy is a neurological disorder that is relatively common in dogs. It occurs when there is an abnormal firing of the neurons in the dog's brain, causing seizures. Whilst some seizures can be mild and last for a short amount of time, others can be severe, last for longer, and be more traumatizing for the dog.
Scientists have found that cannabidiol can be useful in helping to reduce seizures in several different forms of epilepsy through its anti-convulsant properties  There is plenty of research around the use of CBD to help people (especially children) with epilepsy – so much now that in the UK, medical cannabis is available on prescription for certain types of epilepsy.
There is research that suggests that CBD can help to calm the firing of the neurons, reducing the occurrence of seizures, although there is still limited research that is specific to bullmastiffs.
8. IMPROVES OVERALL WELLNESS AND ENJOYMENT OF LIFE
Due to the fact that CBD interacts with the endocannabinoid system, it can work in your dog's body to help to keep it well-balanced and in good working order.
3. CBD DOSAGE FOR DOGS
It is important to give your bullmastiff the correct dosage of CBD for it to be effective. These are some guidelines about how to calculate the best dose for your dog, but it is still best to start low and gradually increase it until you get the best effect.
There are some medications that can interact with CBD, so if you are thinking about trying CBD on your bullmastiff you should talk to your vet first.
Check the recommended dose on the CBD product's information. This will change according to the strength of CBD in the product.
The dosage amount will usually depend on your dog's size and weight, and what you are using it for (a good starting point would be 0.2mg of CBD for every 1lb in weight)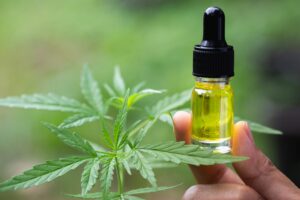 4. FULL SPECTRUM AND BROAD SPECTRUM
When you are buying CBD products you will be offered both full and broad spectrum CBD. The difference between the two relates to the other compounds that are in the product.
Full spectrum CBD is essentially hemp extract, including all of the compounds that are in the hemp plant – including legal amounts of THC (but not enough to get your dog high). Broad spectrum CBD, however, will have most of the compounds – and should have only a very small trace of THC present.
Due to the 'entourage effect' – the phenomenon of the CBD being more effective when it is taken in conjunction with all of the other compounds in the cannabis plant – full-spectrum is more effective, but broad spectrum is preferred if, for example, your dog has an allergy to THC.
5. RECOMMENDED PRODUCTS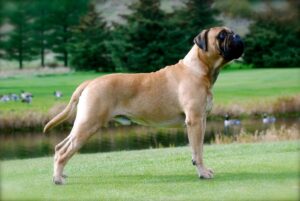 There are many CBD products for dogs on the market, some being trustworthy and others less so. It is important, therefore, that you choose the right products to ensure that it is safe and effective for your bullmastiff.
We recommend:
Nuleaf Naturals – for full spectrum CBD dog products – with THC
CBDmd – for broad spectrum CBD dog products – without THC
6. FAQ
What happens if I give my dog too much CBD oil?
You should try to avoid giving your dog too much of a CBD product at all costs, but it does sometimes happen. The good news is that your bullmastiff will probably lie and down go to sleep, but if you are in any way worried about them, you should get in touch with their vet immediately.
Do vets recommend CBD oil?
In a similar way to humans, CBD has still not really made its way into the mainstream. However, there is more and more research being carried out that shows its potential, and we are seeing increasing numbers of vets who are beginning to recommend CBD for pets.
Can you give CBD to dogs every day?
It is always advised to follow the instructions on the product packaging with regards to dosage, but many people give CBD to their dog, not just every day, but sometimes more than once a day.
How long does CBD stay in the dog's system?
Dogs and humans process CBD in a similar way, and therefore, the amount of time that it stays in a dog's system is similar to that of a human. This largely depends on how the CBD is taken – CBD oil rubbed into the mouth, for example, will be a short time, whereas if it is ingested, it can last for up to about 8 hours.
Can I take my pet's CBD oil?
It depends on what the other ingredients are. If you have just the hemp extract and a carrier oil like coconut or olive oil, then it should be absolutely safe for you to take.