Pros And Cons Of Aussiedoodle Ownership – Should You Get This Dog?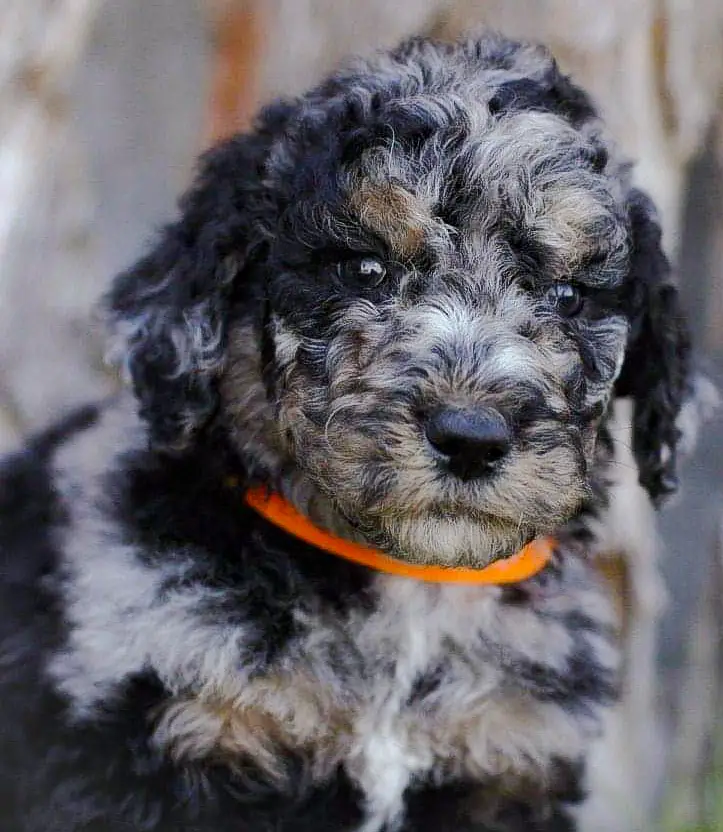 The Australian Shepherd Poodle, or Aussiedoodle is rapidly gaining popularity worldwide, but what do you need to know before deciding whether you want to add one to your life? Let's investigate these furry friends in order to ease your decision.
AUSSIEDOODLE OVERVIEW
1. SIZE 
Aussiedoodles' size are extremely hard to predict, as it is never certain which parents' genes will be dominant. Generally though they are bred to be one of three sizes, namely Standard, Medium and Toy.
Standard breeds grow to be about 45-70 pounds (20-34 kg) heavy, and more than 15 inches (38 cm) tall, while Medium breeds average out at between 15-45 pounds (6-20 kg) in weight and 10-15 inches (25-38 cm) in height and Toy Aussiedoodles only grow to be 10-15 pounds (4-6 kg) heavy and less than 10 inches (25 cm) tall.
2. COAT ​
Aussiedoodles have either wavy or curly coats. They are bred to not shed much and be allergy friendly, but those with curly coats tend to shed a little bit more than those with wavy coats.
Their coats can be any of a variety of different colours like blue merle, red merle, black and red tri, black and tan, parti, sable, or even a solid color in rare cases.
3. GROOMING​
In order to keep shedding at a minimum, Aussiedoodles should be taken for a trim every three months.
Curly haired dogs need to be brushed daily, as to prevent matting. Matting is less of a problem for wavy haired Aussiedoodles.
4. PERSONALITY ​
According to ​Perfectdogbreeds.com​, an Aussiedoodle is a cheerful and energetic cross breed between the Australian Shepherd and Poodle.
They look like a teddy bear and are very intelligent. They love cuddles, playing and long walks on the beach, making them the perfect addition to any active family.
5. TEMPERAMENT
​Because of their heritage, Aussiedoodles tend to be obedient dogs, Poodles have a high prey instinct though, and Shepherds are herding dogs, so both of these qualities may come through in your Aussiedoodle.
So don't be surprised if you find your dog trying to round up your children for you.
6. BARKING ​
Aussiedoodles are considered to have a low tendency to bark.
Like any dog, however, they will bark when excited or angry. Socializing and training from a young age could help to prevent this.
Aussiedoodle puppies barking is the cutest thing ever though, have a look at this ​video​ by Pasta J Wood showing a couple of 3 week old puppies having a chat.
7. AS A FAMILY DOG
​They are great family dogs. They combine the intelligence and low shedding of Poodles with the active and friendly nature of Australian Shepherds.
They are perfect for a physically active family that has time to commit to giving them enough attention. Their herding instincts also make them great with Children. They are also very playful, and would enjoy having children as playmates.
8. AS A GUARD DOG ​
According to ​Wagwalking.com​ the breed has served man well as a guide dog, guard dog, service dog and performing dog. They are intelligent and strong.
Poodles are loyal to their companions, and master hunters, while Australian Shepherds are instinctively protective.
9. INTELLIGENCE
​Vet Street Magazine​​ Both of the breeds used to create Aussiedoodles are considered to be canine Einsteins.
It's to your benefit to give the Aussiedoodle a job that will keep him busy, busy, busy. Teach him to find and bring you things, pull your gardening equipment around the yard, or anything else you can think of.
Keeping him occupied will ensure that he doesn't go off and find his own (likely destructive) entertainment
10. LIVING CONDITIONS
Aussiedoodles are highly energetic, and need plenty of stimulation.
They would prefer having a yard in which to play. If you're considering getting an Aussiedoodle, you will have to be willing to spend a lot of time with them.
11. EXERCISE ​
As much as Aussiedoodles require mental stimulation, they also need physical exercise. If they do not have a yard in which to play, they need to be taken out daily.
12. HEALTH ISSUES ​
As a hybrid, Aussiedoodles are healthier than their parents. However, of course there is always a chance that they might inherit some of the health problems associated with Poodles and Australian Shepherds.
Some of the health issues that have been known to show in Aussiedoodles include Cataracts, Hip dysplasia, Epilepsy, Autoimmune thyroiditis, Progressive retinal atrophy and Sebaceous adenitis.
13. LIFE EXPECTANCY 
​Curiously, Aussiedoodles don't seem to live as long as either Poodles or Australian Shepherds. Still, they can live up to be a healthy 12 years old.
14. COST ​
Aussiedoodle pups, bought at reputable breeders can cost anywhere from $1500 to $5000. Why is the range so wide?
Well, it is influenced by a variety of factors, including puppy age, breeding rights, and breeder's reputation.
THE HISTORY OF AUSSIEDOODLES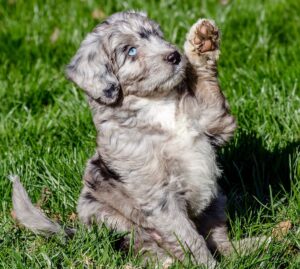 Although it is possible that the Aussiedoodle mix between a Poodle and an Australian Shepherd may have existed naturally for years, professional designer breeders started crossing them in the late 1990s in America.
Bred to be companion dogs with low shedding, the Aussiedoodle shot to popularity due to their intelligence and goofy attitudes.
PROS OF OWNING AN AUSSIEDOODLE
Why are Aussiedoodles so popular? Well, just looking at them will give you a good idea.
Here's​ a compilation of Aussiedoodles by Daily Dog.
1. AMAZING COMPANIONS
Apart from their adorable, goofy looks, they are also amazing companions who will love you unconditionally. They are great playmates for children, and they will keep your family protected.
2. EASY TO TRAIN
Because they are highly intelligent, they are also easy to train, in fact, from the first day you get an Aussiedoodle pup you can begin training it. They love getting jobs to do or doing tricks for your entertainment.
3. AUSSIEDOODLES AREN'T OBSESSIVE BARKERS
Aussiedoodles aren't obsessive barkers, so you shouldn't have to worry about them disturbing you, and when they do bark, you might want to go check why, because they might be protecting your life.
4. LOOKS AMAZING
The fluffy, soft coats also make for some premium cuddling, and during the winter months they'll act as your personal puppy heater.
5. LOW SHEDDLING, ALLERGY FRIENDLY
As hybrids, they are bred to be healthier than their Poodle and Australian Shepherd ancestry, and to be low shedding, allergy friendly.
6. A WIDE VARIETY OF SIZES AND COLORS
You'll be able to get one to your specifications because they come in such a wide variety of sizes and colors.
7. EXTREMLY LOYAL AND LOVING
They are extremely loyal and loving, and with a bit of training they can be let off their leash without you having to worry.
More than anything, they want to make you happy. Who doesn't want a loving companion whose sole purpose is pleasing you?
All in all they are just brilliant family dogs, loving, caring, protective and playful. If you are willing to commit to giving them enough attention, they will be a great addition to any family.
CONS OF OWNING AN AUSSIEDOODLE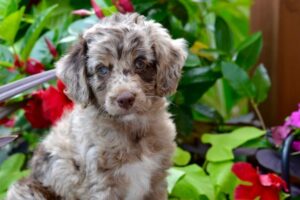 While no dogs have cons, there are some points to consider before including an Aussiedoodle to your family.
1. NEED MOST OF LOVE AND ATTENTION
What they need most of all is your love and attention, so if you can't afford to be with them for the majority of the time, it might be best not to get one.
2. NEED TO BE KEPT BUSY
Apart from your love, they also need to be kept busy, and if they get bored they might become a little destructive.
3. NEED A BIT OF GROOMING
Aussiedoodles also require quite a bit of grooming, while they might not shed much, their curly, bushy hair can become matted quite easily.
Also, of the breeds that are bred not to shed, Aussiedoodles shed the most, even though it still won't be as much as other breeds.
4. EARLY TRAINING IS NECESSARY
Aussiedoodles have quite a lengthy teething period, about 7 months, where they might chew and bite, but remember, they aren't born knowing what they are allowed to chew on, so a bit of training can resolve this problem.
5. VERY EXPENSIVE TO BUY
Finally, as with all designer breeds, they are very expensive to buy if you get them from a proper, reputable breeder.
This also means that they are seen as an opportunity by puppy mills, who breed them at large scale, without taking the proper precautions in order to make some easy money.
TIPS FOR AUSSIEDOODLE OWNERS
They love playing. Be sure to play with them a lot, and they will let you know when they want to play. Either they'll moan a bit to remind you that they're there, or they'll bring you things they want to fetch. It's best to initiate the playing yourself, lest you leave it to their own, often more destructive imagination.
Check your fences. Aussiedoodles are agile, and could easily jump over fences that you might have thought will contain them.
They need constant attention, so before adding an Aussiedoodle to your family, remember what you're signing up for.
They like to be given tasks, so teach them how to fetch or do tricks. This will keep both their bodies and minds busy.
If you make sure to groom them properly you'll have a dog that looks like it comes straight out of a cartoon movie.
Because of their fluffy beards, they soak up water when drinking. So be ready for wet sloppy kisses and dirty floors.
They love water! If you want to entertain them, simply turn on the sprinkler system in your garden, or take them to the nearest river or dam.
CONCLUSION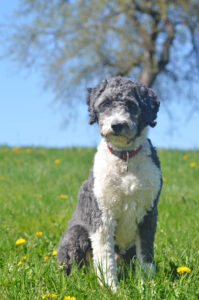 There's a good reason Aussiedoodles have become this popular. They are an amazing breed, hyper intelligent, super fun, and unconditionally loving.
They are perfect for a family pet, provided that the family can give them enough love and attention, and keep them occupied.
They are not low maintenance and they can be rather expensive, but if you're looking for a loving guard dog that your children could also have a blast playing with, they are worth every penny.